Hello,
OpenMandriva Lx version:
OM Lx 3 on 2 different partitions one is fully updated with standard repos and the other is fully updated with testing repos. Both show high temps. As best I can tell this has occurred for 2 weeks of less.

Desktop environment (KDE, LXQT…):
KDE/Plasma5

Description of the issue (screenshots if relevant):
Screenshot shows reading of sensors with Konsole, Quassel, and Firefox open and not much else going on. This is more than 20-25 degrees C higher than readings I used to get on OM Lx 3 say a month or more ago. To be fair the readings keep going up and down and this is the high end of what I've seen. The lowest temp readings are still up 5-10 degrees C compared to what I used to see in Lx 3 and what I still see in other Linux partitions (openSUSE, Manjaro).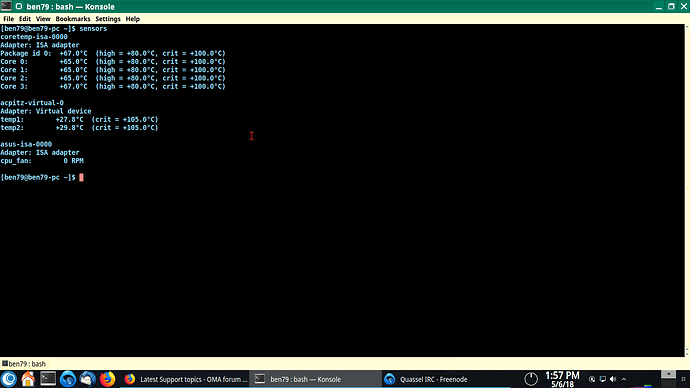 Relevant informations (hardware involved, software version, logs or output…):
This is on a hardware system on a multi-boot computer. I will post a screen shot from another partition on same computer to demonstrate difference.
Hardware info:
$ inxi -F                                                                                                                                                 
System:    Host: ben79-pc Kernel: 4.15.18-desktop-1omv x86_64 (64 bit) Desktop: KDE Plasma 5.10.5                                                                           
           Distro: OpenMandrivaLinux 3.0 Einsteinium                                                                                                                        
Machine:   System: ASUS product: All Series                                                                                                                                 
           Mobo: ASUSTeK model: H97M-E v: Rev X.0x Bios: American Megatrends v: 2702 date: 03/28/2016                                                                       
CPU:       Quad core Intel Core i5-4590 (-MCP-) cache: 6144 KB                                                                                                              
           clock speeds: max: 3700 MHz 1: 3512 MHz 2: 3563 MHz 3: 3580 MHz 4: 3562 MHz                                                                                      
Graphics:  Card: Intel Xeon E3-1200 v3/4th Gen Core Processor Integrated Graphics Controller                                                                                
           Display Server: OpenMandriva X.org 119.6 drivers: (unloaded: fbdev,vesa)                                                                                         
           Resolution: 1920x1080@60.00hz                                                                                                                                    
           GLX Renderer: Mesa DRI Intel Haswell Desktop GLX Version: 3.0 Mesa 17.3.9                                                                                        
Audio:     Card-1 Intel Xeon E3-1200 v3/4th Gen Core Processor HD Audio Controller driver: snd_hda_intel                                                                    
           Card-2 Intel 9 Series Family HD Audio Controller driver: snd_hda_intel                                                                                           
           Card-3 Logitech HD Pro Webcam C920 driver: USB Audio                                                                                                             
           Sound: Advanced Linux Sound Architecture v: k4.15.18-desktop-1omv                                                                                                
Network:   Card: Realtek RTL8111/8168/8411 PCI Express Gigabit Ethernet Controller driver: r8169                                                                            
           IF: enp3s0 state: up speed: 1000 Mbps duplex: full mac: 78:24:af:3c:ea:b3                                                                                        
Drives:    HDD Total Size: 1500.3GB (9.4% used) ID-1: /dev/sda model: WDC_WD1002FAEX size: 1000.2GB                                                                         
           ID-2: /dev/sdb model: Crucial_CT500MX2 size: 500.1GB                                                                                                             
Partition: ID-1: / size: 20G used: 7.5G (41%) fs: ext4 dev: /dev/sdb5                                                                                                       
           ID-2: /home size: 9.8G used: 586M (7%) fs: ext4 dev: /dev/sdb6                                                                                                   
           ID-3: swap-1 size: 5.37GB used: 0.00GB (0%) fs: swap dev: /dev/sdb2                                                                                               
RAID:      No RAID devices: /proc/mdstat, md_mod kernel module present
Sensors:   System Temperatures: cpu: 51.0C mobo: 27.8C
           Fan Speeds (in rpm): cpu: 0
Info:      Processes: 193 Uptime: 52 min Memory: 1355.5/15917.2MB Client: Shell (bash) inxi: 2.2.27