Hello,
Rock/Lx 4.1
Desktop environment (KDE, LXQT…):
All
Description of the issue (screenshots if relevant):
Relevant informations (hardware involved, software version, logs or output…):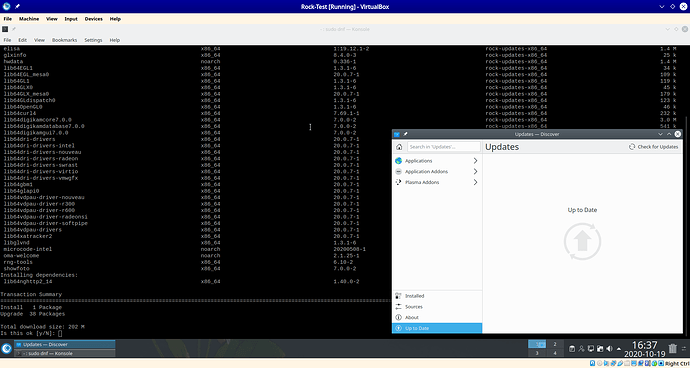 Today I attempted to test Discover in response to an issue reported here.
Unfortunately I discovered something more disturbing with Discover. We can see in the screen-shots above that In a fresh install of "OpenMandrivaLx.4.1-2020.05-plasma.x86_64.iso" after first boot Discover reports "Up to date" whereas in Konsole "dnf upgrade" shows 38 packages to update and 1 to install as a dependency.
I use dnfdragora occasionally to search for software and I use Discover for nothing because I long ago lost trust in it. I only use Discover when I am testing it.
While we do provide dnfdragora and Discover at user request we recommend that users do package management transactions from terminal (Konsole) with dnf.