Hello,
Post-edit: The purpose of this thread is to get PCManFM-QT fixed.
OpenMandriva Lx version: Lx 3 all

Desktop environment (KDE, LXQT…): LXQt several versions since at least Aug. 2017.

Description of the issue (screenshots if relevant): PCManFM-qt Left Panel 'Places' menu does not work, is not usable. Note in the main window Documents is showing even though Computer is selected and should be showing. What happens is that in 'Places' on the left panel it will go to the first window I try and then it will not move, will not go anywhere else. If I change to Directory tree same issue. Curiously in the tool bar menu if I select either 'Go' or 'Bookmarks' I can navigate so it is the left panel 'Places' (or 'Directory tree') that is broken. Anyway if Y'all spend a minute or two in this application you'll quickly get the jist of what I'm seeing.
Also what should be the mouse cursor is showing a clock going round and round like something is downloading or something. The clock/mouse cursor does not show up in screen shot for some reason. I set a time delay so that was visible to me when picture was taken so no idea why it did not show up in screen shot unless it is a "Vampire" clock/mouse cursor.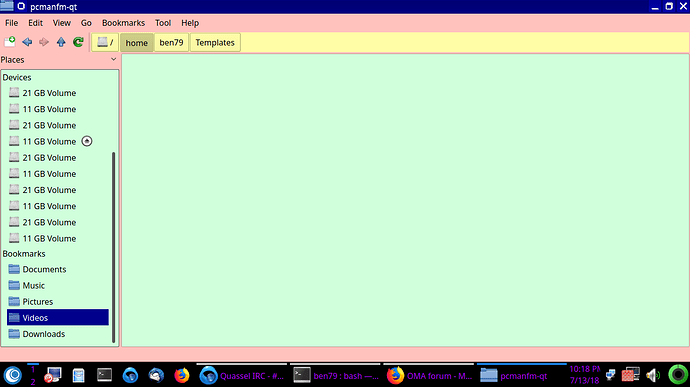 Relevant informations (hardware involved, software version, logs or output…): Current package version is:

$ rpm -qa pcmanfm-qt
pcmanfm-qt-0.12.0-3-omv2015.0.x86_64
I have tried using both openbox and kwin-x11 window managers.