@bero, trying to do something by my own… Hope I won't do any disaster

Well, @bero now you may want to review my commits (welcome and om-cc).


Upgraded to: oma-welcome-2.1.0-1
Please test, before beta release.
Thanks.
PS>
upgraded also om-control-center.
This have to be installed.
I suggest adding in the games part the lutris app
@KaioBR Will pass on to the devs your suggestion.
Current: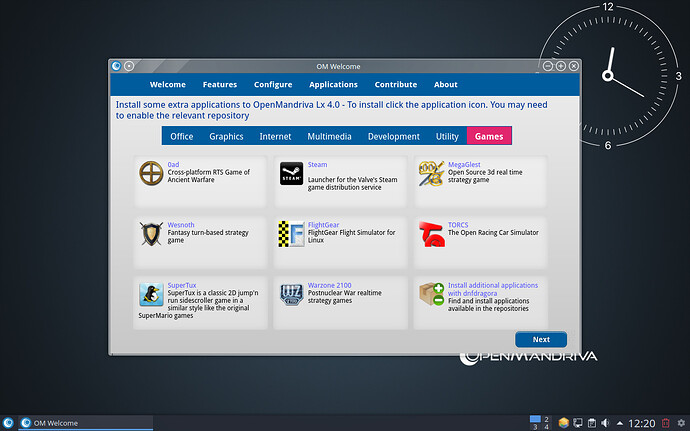 Also big thanks to @AngryPenguin for packaging and maintaining Lutris.
In OM-Welcome if user clicks on "OpenMandriva Control Center" nothing happens. Perhaps it should offer to install om-control-center? Click on Calibre it just pops up a window telling me Calibre is not installed. Same for Poedit, Semantik, Kraft, Calligra. This is probably because there is a problem with each of these packages and they won't install.
Selecting to install packages with dnfdragora does not open dnfdragora because:
Skipped exception: <[Errno 2] No such file or directory: './dnfdragora.yaml'> 
Skipped exception: <[Errno 2] No such file or directory: '/home/ben79/.config/dnfdragora.yaml'> 
Unexpected error: <class 'PermissionError'>

Post-edit: Overall to me OM-Welcome is looking and working better than it ever did in OM Lx 3. This is a very good thing IMO.
Maybe yes. Will look at it.
Tried from console too, yes problem may be needing of mass rebuild also for the other repositories other than /main.
A list of packages in OM-Welcome that won't install. Again this probably is not a problem with OM-Welcome but with individual packages needing to be rebuilt. So far this list includes the OM-Welcome pages Applications>Office, Graphics, Internet, Multimedia, and Utility. I probably won't test the pages for Development and Games.
Calibre
Poedit
Kraft
Calligra
Scribus
Inkscape
LibreCAD
Blender
Thunderbird
KFileBox (Dropbox)
Codecs
Devede
QMMP
Wine
Different problem:
Kdenlive is in OM-Welcome Multimedia list but is installed by default.
OpenJDK still points to java-1.8.0 that is old now and possibly it should point to java-12?
Post-edit: (2019-05-07) Removed from list: Semantik (installs now on updated system)

Noted.
Thanks for any feedback.
Under investigation.
Yet if you run the same command from console, although complaining it opens dragora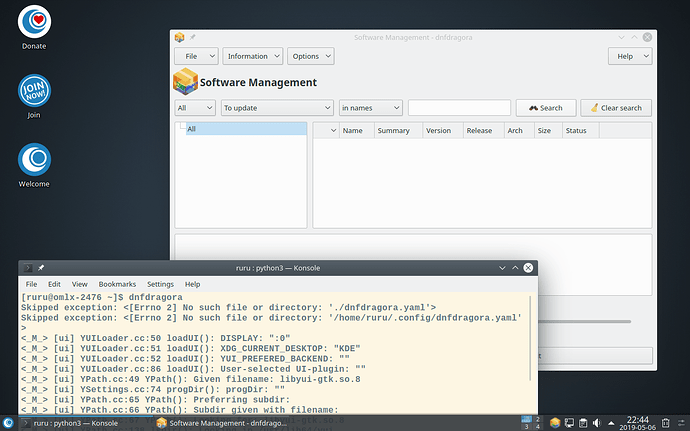 oma-welcome-2.1.6-1
Please test.
Postedit:
Does dragora start when you launch it from application menu?
Here it doesn't.
Fully updated system to today (right now).
Just updated. Yes, opens no problem here.
Committed changes.
Local testing worked fine, we'll see as soon as I update the package

oma-welcome-2.1.7-1
Please update and test.