OpenMandriva Lx version: 4:0

Desktop environment (KDE, LXQT…): KDE Default Plasma from clean install into physical PC

Description of the issue (screenshots if relevant): I get this error message in a popup and Mandragora closes
g-dbus-error-quark: GDBus.Error:org.freedesktop.DBus.Error.NoReply: Message recipient disconnected from message bus without replying (4)
I don't know what is going on, in fact yesterday I noticed I the repository config from Mandragora in the options was different than the one you set in the New Config Panel, so I carefully read all the stuff Ben79 posted about it and chosed Rock, so I only set Rock repositories in both sections of the config (screenshots below, one can't because of error)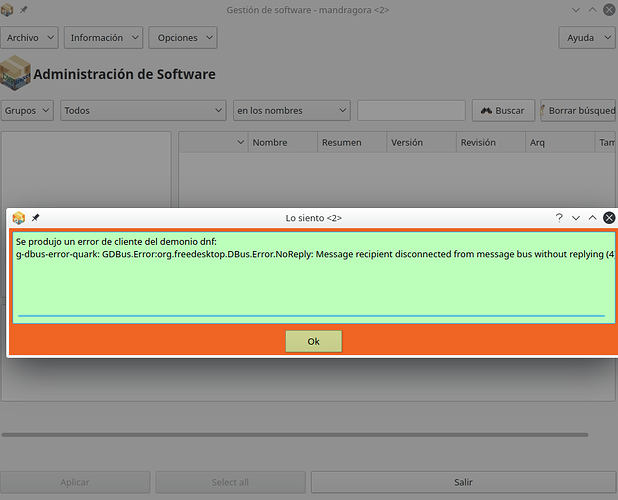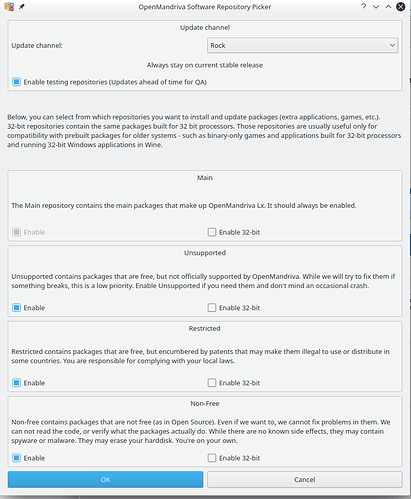 I searched for the error message but lot of info in Ubuntu and honestly the problem didn't seem to match with mine since they were trying to install something and I don't, I simply can't open it because insta crashes.
Also I can't remmber getting an error and crash recently, I tried to install yesterday a 2gpaint or something like that and told me it wasn't able to do it, but IIRC that happened few days ago as well and Mandragora continued to work, even yesterday it continued to work… and now I can't open it. The Updater service is working tho, it even let me launch a Mandragora instance but then the error make Mandragora shut down
I didn't install really much because… there is a lack of applications I am searchng for, I hope someone can give me advice on things to check or commands to gather useful information to fix this please.
Relevant informations (hardware involved, software version, logs or output…): > MOBO ASUS M5 A788L-M (USB3)
CPU AMD FX 6300 Vishera
RAM DDR3 x 8GB (2x4 GB)
VGA Integrated ATI Radeon™ HD 3000 GPU