Hello,
OpenMandriva Lx version:
Lx 3 installed from ISO's 1298 or 1314 and fully updated.

Desktop environment (KDE, LXQT…):
KDE/Plasma5

Description of the issue (screenshots if relevant):
Installed system in VirtualBox (with EFI boot selected) boots to interactive shell. So far this has happened on 2 computers.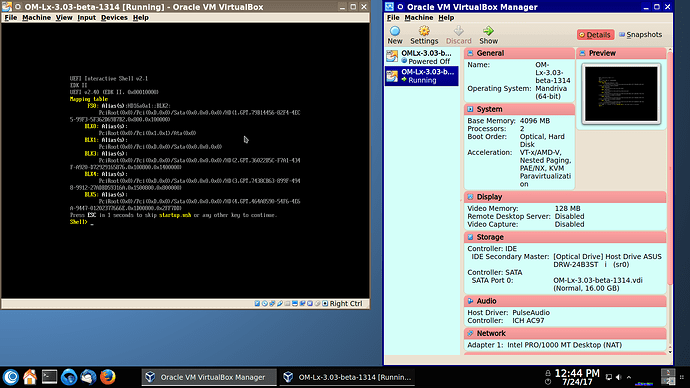 Relevant informations (hardware involved, software version, logs or output…):
VirtualBox from OM repos version 5.1.22, of course correct Extension Pack is installed.
Now pay attention to what I'm saying here. The ISO itself will EFI boot. It is the installed system in VirtualBox that boots to the interactive shell. I certainly can post VBox logs if that would help. Which logs to post as there are 4 for each installed system? What I mean is do I post VBox.log? VBox.log.x?
I don't yet have a sense of whether this is an OpenMandriva problem with something not being written or is it a VirtualBox bug?
There is a work around to get system to boot. What you have to do is edit (actually create) 'startup.nsh' and point the interactive shell to '\EFI\openmandriva\grubx64.efi'. If anyone else has this issue I can post the exact procedure.