Hello,
OMV LX 3.03
KDE 5
I've installed kio-mtp to access cell phone
Upon plugin the cell phone, notifier says " there is a device …", but clicking it to open with dolphin a popup error window is shown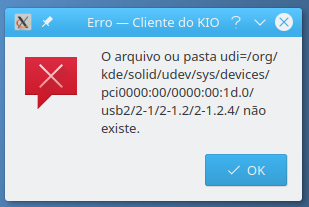 Translating,
"A file or folder udi=/org/. … does not exist"
Tried installing package
mtpfs
but it did not help (did not reboot yet).
I've found this reference,
Error with KIO while trying to open Lumia device on Plasma 5 : kde
there one says kio-extras has to be rebuild with patches …
Does anybody else has this problem? Do I report to bugzilla?
Thanks