All
Desktop environment (KDE, LXQT…):
NA
Description of the issue (screenshots if relevant):
User wishing to install OMLx (any version) with no root password. Calamares issues an error: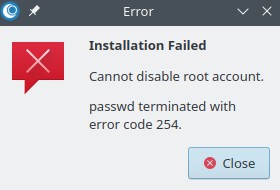 Relevant informations (hardware involved, software version, logs or output…):
Why would someone do this. It is a security feature that some folks may find useful or desirable. Default behavior for OMLx is that root with no password equals root account is locked so no one can login as root. Administrator functions will need to be done as sudo.
Default behavior for sudo is that Calamares installer adds the "first user" or the user created by the installer to sudoer list. Any other users that one wishes to add to sudoer list must be done manually with visudo.
Users can learn more about this by doing their own internet search. There are short articles about this here and here.