Updated this post 2020-05-09:
First user needs to read and understand this article OpenMandriva Release Plan and Repositories in OpenMandriva wiki. A Rolling user should be able to use command line and know basics of dnf package manager. For those new to OpenMandriva Lx we suggest to use Rock for a while to learn what is different about OM Lx, how things work, ect. Then migrate to Rolling.
To use OpenMandriva Lx Rolling user either installs Rolling from a Rolling ISO or upgrades an OM Lx Stable (at this writing 4.1) system. To upgrade you change the repositories from Rock to Rolling and do a system upgrade or what we call a distro-sync.
To change the repositories open Software Repository Selector and select Rolling, select OK, and when prompted enter your root password. This will take a minute so be patient.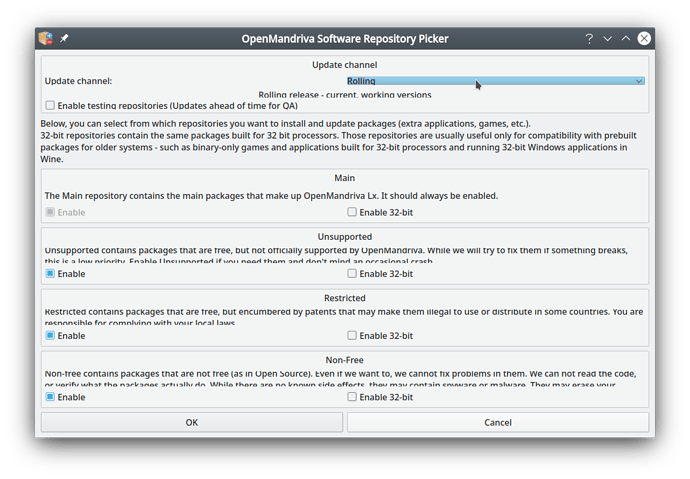 Then to upgrade your system open Konsole and run this command string:
$ sudo dnf clean all ; sudo dnf --allowerasing distro-sync
It is recommended to use these commands to keep Rolling up to date. User should never upgrade Rolling (or Cooker) with dnfdragora or Discover as these graphical package-managers may not publish error messages before upgrading.
Note: Some sharp eyed users will wonder why I did not include the option --best. Because distro-sync uses --best by default.