Hello everyone,
I'm the happy user of OMV Lx 3.0 i586. Everything is fine, except than I cannot connect to my wi-fi anymore. I'm sure the password I type is the right one. It used to work, but since some updates I believe, it doesn't work anymore. It tries to connect but it doesn't in the end, and I get a message saying that the Wi-Fi network cannot be found.
Just to tell you that on my computer I have a dual boot and on the other OS (made by a company located around Seattle), everything works perfectly well. So I think the problem doesn't come from the computer but from OMV itself.
Here is the message I get (in french)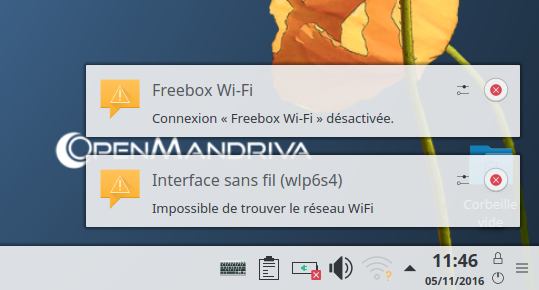 I really hope you can help me. Please let me know if you need the return of some commands under Terminal and which on.
I would really appreciate your help. This problem is really irritating. Otherwise am very happy of the new version of OMV which I find very nice.
Thanks in advance fror your help.
CD