Is there a way to get Application Launcher (Kickoff) to list applications by name instead of by description?
Yes, there is. Right click on Application Launcher icon and select Application Launcher settings then select 'Show applications by name'. Now order is restored to the cosmos.
This should be in Release Notes.
I see it now. I also do something similar and stole a couple of tips from you.

OK, folks next problem I'm seeing is on an ASUS K53E notebook. I'm getting configuration/settings windows that are to tall and go under menu panel. Therefore I can't acess the OK,APPLY,CANCEL buttons. Frustrating.

Also stupid. Why would a desktop do this? How can I get this to not happen? Or is this a bug?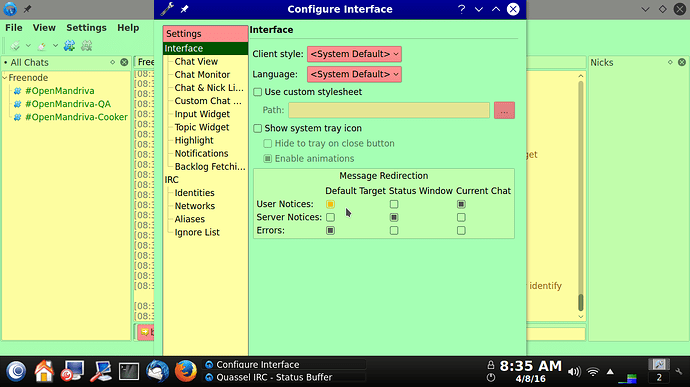 Edit: To be sure I do know a way to change size of window to make it work but this shouldn't be something users see in the first place.
Be my guest!
Please stole everything you want

Just a thought: maybe some panel setting?
Panel > "hamburger" menu > More settings > Visibility ?
You would think so but I've looked and so far haven't found anything.
It looks like that settings window for Quassel is exactly same size on the 15.6 inch screen notebook as it is on my desktop with 24 inch monitor. Isn't there some mechanism to make things proportional?
Or maybe it's affected by my font settings? (Once a person gets to a certain age we need a 'comfort' font size)

Edit: Font settings for the old man's ASUS K53E notebook: