Hello,
OMLX4

Desktop environment

When unifying PC and TV monitors, after HDMI connection, HDM-1 is the visible device. Primary monitor is PC, I can controll all. I see everything on both monitors, but audio only on PC.

Now BOTH monitor are visible BUT: NO AUDIO on TV.

I went in the multimedia section of system settings; in the audio devices were active both audio analogical internal stereo and GF108 HD Audio Controller Digital stereo (HDMI-2 ) ! Why ? Should be HDM1 !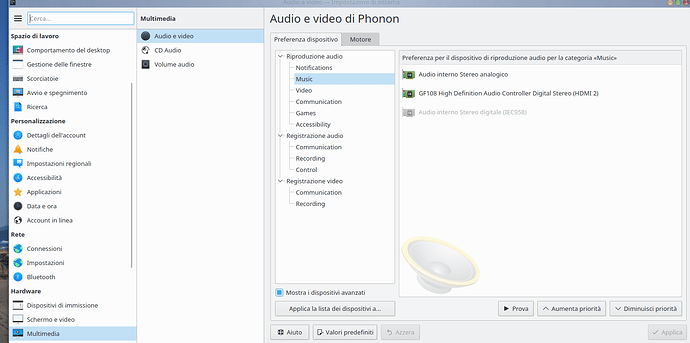 The shot shows what appears in multimedia settings GUI. No ather choice are available. Surround 7 and simultaneous exits were available in Lx3.
I checked both device: Analogical can be heard on PC, the other one on TV. But when I launch a sound application, like amarok, I can hear music only on PC.
Any command to discover what goes wrong ? Other suggestions ?